With global supply chains still affected by the ongoing COVID-19 Pandemic, establishing and maintaining fast, reliable, and cost-efficient access to goods and materials continues to be difficult. In the chemical industry, the pandemic has had an even greater impact, changing not just the ability to source materials but the speed and complexity of these sourcing needs.
In response many companies have chosen to source chemicals locally, preferring the convenience of operating in familiar markets to the potential benefits of looking abroad. While it can seem daunting to approach unfamiliar markets for your sourcing needs, overcoming the knowledge gap can open new opportunities. This article aims to provide insight into the Chinese chemical sourcing industry. Though not without its challenges, when approached intelligently, the Chinese market presents great opportunities for quickly, reliably, and efficiently sourcing chemicals. 
The Chinese Chemical Industry at a Glance
The chemical market in China is massive. The largest market in the world by revenue since 2011, China sells more chemicals than the U.S., Europe, India, and Japan combined. It has been consistently growing, with half of all global chemical industry growth over the last 20 years. (1.)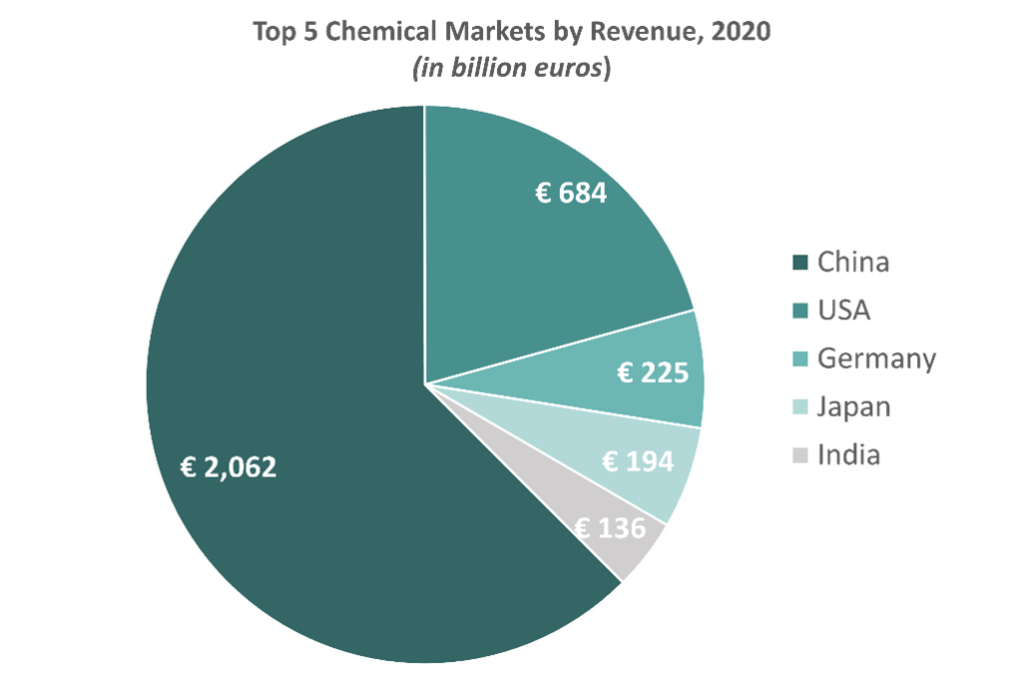 Continuous investments in R&D have helped Chinese companies remain at the cutting edge. Spurred by the growth of both industry leaders and independent startups across the private sector, and supported by universities and research institutions, China is consistently a global leader in R&D spending. This growth has seen Chinese companies taking over industry verticals historically dominated by western firms. (2.)
The Chinese chemical industry is a sophisticated global powerhouse and shouldn't be viewed as simply a low-cost alternative to western sources, but rather as the innovative and cutting-edge home of the world's largest and most successful chemical manufacturers.
The Modern Chinese Chemical Manufacturer
As the industry at large has matured thanks to decades of sustained growth, Chinese manufacturers have grown alongside it.  For years, the country has been a leading, and at times exclusive source for chemicals in several industries, thanks to high production technology and continuous process and quality improvements. Fermentation, pharmaceuticals, and petrochemicals have all seen Chinese companies become leading global producers, competing directly with major multinational manufacturers.
At the same time, the Made in China 2025 policy has expanded the industries that require the production of chemicals in high-tech areas. Electronics, aerospace, and green-tech have created new niches for chemical manufacturers to compete in.
Alongside these moves into new high-tech industries, Chinese manufacturers are becoming increasingly green and efficient. New national regulations are driving increased environmental sustainability and efficient waste management handling, leading to more effective and responsible chemical producers.
Working with Chinese Chemical Manufacturers
It's clear that the market has no shortage of modern, efficient manufacturers, empowered by innovative technologies, and supported by strong national infrastructure. Chinese companies are able to consistently produce large volumes of high-quality chemicals, at a rate that is unmatched by any other market around the world.
The COVID-19 pandemic has certainly impacted the supply chain of Chinese manufacturers, just like it has in every country around the world. However, the sheer number of available suppliers and offerings has meant sourcing departments that have access to the broad Chinese chemical ecosystem can find solutions for their chemical sourcing needs and mitigate the risk of disruption to their supply chains.
This isn't to say that the industry isn't without its challenges. Finding suppliers, communicating with them, testing materials, and organizing logistics are all difficulties compounded by working across borders.
Accessing Chinese manufacturers is the first challenge. While many established and reliable manufacturers exist within China, finding and vetting them can be difficult. With travel restricted due to COVID-19, it is nearly impossible to meet with manufacturers at trade shows and events, and finding new suppliers requires an online approach. Without the ability to approach manufacturers directly, it can be difficult to develop trust or evaluate the company ahead of making a deal.
If you are able to find a reliable supplier, communicating with them can present further barriers. Language and cultural barriers can make it difficult to communicate your needs to a Chinese counterpart. Differing time zones can lead to slow communication and delays in projects. And a lack of sophistication among the sales teams of these manufacturers can cause frustrations, particularly to those in the west who value customer service above all else.
While these Chinese manufacturers have done a great job of modernizing their manufacturing, research & development, and technology, the same sophistication doesn't always apply to all business practices. There can be a bit of culture shock when working directly with these manufacturers, especially if you are used to working with chemical providers from their home market and leading multinationals.
When sourcing chemicals, China presents an interesting proposition. On the one hand, cultural differences, an unfamiliar market, and the sheer number of options present difficulties for finding suppliers. On the other, if you're able to overcome these challenges, the Chinese market presents unparalleled access to a huge group of sophisticated manufacturers, producing chemicals to suit almost every need. Fortunately, there are options for approaching the market with assistance, overcoming many of the difficulties while accessing all of the upsides.
How Chemlyte Can Help
Serving as the link between sourcing departments and chemical manufacturers, we serve as a trusted partner familiar with the challenges facing both sides to access the benefits of the Chinese market while avoiding its difficulties.

Using Chemlyte Solutions as your trusted partner in sourcing chemicals from China can present a whole new world of opportunity for your chemical needs. Contact one of our consultants to discuss how we can work to grow your business.
References
https://www.mckinsey.com/industries/chemicals/our-insights/chinas-chemical-industry-new-strategies-for-a-new-era